1907
1907 Agusta biplane (no larger picture available)
Country of Origin: Italy Designed and built by Giovanni Agusta
Picture from Milan Javorsky

1907 Bleriot V canard - made only 4-5 yds hops
Country of Origin: France. Designed and built by Louis Bleriot
Span: 25'7" Length: 27'11" Weight: 570 lbs
Picture from www.aerobscure.free.fr
1907 Bleriot VI "Libellule" tandem monoplane - flew up to 165 yards and up to 40 ft high
Country of Origin: France Designed andbuilt by Louis Bleriot
Span: Est. 35'
Picture from //aerobsure.free.fr
1907 Bleriot VII monoplane - flights upto 500 yds
Country of origin: France. Designed and built by Louis Bleriot
Span: 36' Length: 29'6" Weight: 940 lb
Picture from www-aerobscure.free.fr
1907 De Pischoff tractor biplane
Country of origin: France Designed by Alfred de Pischoff Constructor: L.Chauviere
Span: 32'10"
Picture courtesy of L.E.Opdycke, author of French Aeroplanes before the Great War
1907 Epps monoplane
Country of Origin: USA Designed and built by Benjamin Thomas Epps
Picture from Milan Javorsky
1907 Esnault-Pelterie Rep 1 tractor monoplane No rudder, but flew up to 2000'
Country of origin: France Designed and built by Robert Esnault-Pelterie
Span: 32'2"
Picture courtesy of L.E.Opdycke, author of French Aeroplanes before the Great War
1907 Koechlin No. 1 biplane
Country of Origin: France Designed and built by Paul Koechling
Picture courtesy Opdycke L.E. author of French Aeroplanes before the Great War
1907 Phillips Multi-Wing Flying machine
Country of Origin: UK Designed and built by Horatio Phillips
20 rows of aerofoils. Flew more than 500 yards
Picture courtesy of Goodall. M. co-author with A.Tagg (deceased) of British Aircraft before the Great War Schiffer Publishing Ltd. Atglen.

1907 Santos-Dumont No. 15 biplane
Country of Origin: Brasil/France Designed and built by Santos-Dumont (Brasilian)
Length: 33'4"
Picture from Ricardo Otranto Chagas

1907 Santos-Dumont 19 & 19bis real monoplane - forerunners of Demoiselle, see 1909
Country of origin: France Designed & Built by Alberto Santos-Dumont, Brazilian living in France
Span: 16'5" Length: 26'3" Take-off weight: 242 lb
Picture from www.ctie.monash.edu.au
1907 Sautereau biplane
Country of Origin: France Designed and built by Sautereau
No picture found
1907 Wright Model A - the world's first production airplane from 1907 to 1909. Also the first 2-seater!
Country of origin: USA. Designed and built by Wilbur & Orville Wright.
Span: 41' Length: 31' Weight: 800 lbs.
Picture courtesy of Wright web site www.first-to-fly.com where you will also find more information.
1907 Voisin - Delagrange No. 1 biplane
Country of Origin: France Designed and built by Les Freres Voisin, the first real aircraft factory
Span: 36'2" Length: 36'2" Weight: 990 lb empty
Picture from www.ctie.monash.edu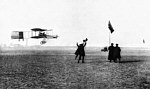 1907 Voisin Model HF1 biplane - in September 1907 it hopped but in October it managed some flights
Country of Origin: France. Designed and built by Les Freres Voisin
Span: 35'5" Length: 44'2" Take-off weight: 1200 lb
Picture from www.ctie.monash.edu.au